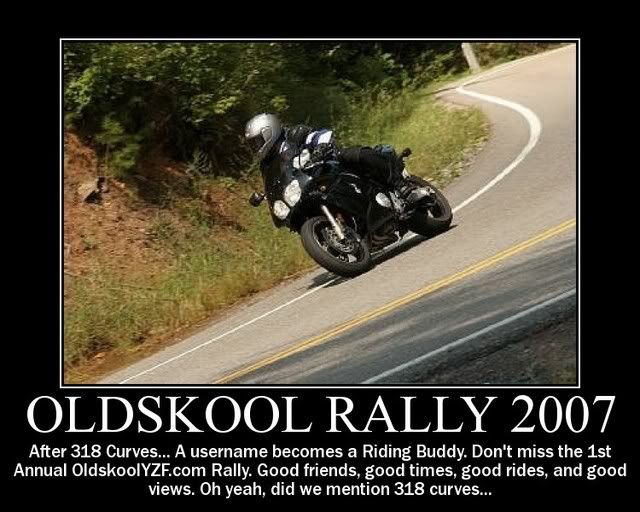 We are tentatively leaning heavily toward the following dates:
ORANGE
dates = pre/post extended time.
YELLOW
dates = Official Rally Days
Tuesday, june26, 2007
-show up pre rally fun, possible early bird riding clinic
Wednesday, June27, 2007
- Pre-Rally ride
Thursday, June 28, 2007
official first day
, riding clinic , cookout at Cherohala diner.
Friday, June 29, 2007
spend the day at and around the dragon.
Saturday, June 30, 2007
large loop possibly including the Blueridge Pkwy to Ashville(iron butt day!)
Sunday July 1
(official last day of rally)
Either rerun the friday routes, or head south to Such's GA for more great roads. (GA trip another long day)possibly split group. Evenng Campfire to re-cap the experience and wind down.
Monday July 2, 2007
Post-Rally ride. For those who still can't give up. Quick cherohala/hwy28/ dragon run, clear out and head home.
Location:
Tellico Plains KOA
7310 Highway 360
Tellico Plains, TN 37385
Summary:
The KOA at tellico plains is located along a major highway, at the south end of the Cherohala Pkwy. Its about 45mins to an hout of high speed sweepers from the infamous dragon and a very bike/family friendly campground. The itinerary above is only a guideline and can be flushed out later once we have a better handle on the makeup of the group. On thursday I plan to offer a short riding clinic for the cornor impaired to help get everyone comfortable with the mountain roads. This will not be a race school but rather a series of tips, tecniques and critiques to help get you comfortable riding on roads guaranteed to tempt you into some very enthusiastic riding.
There are several good resteraunts around Tellico Plains including the Cherohala cafe/diner(???) which is a must. The entire area is famous for their own version of Bar-B Que, so we are sure to find good eats.
I will be there from tuesday June 26 thru monday July 2 taking in the local roads, but the actual rally will run from thursday morning through sunday night where a large campfire/ celebration will be in order. Monday is reserved for the 'hangover ride' and the trip home.
(the clinic is highly recommended for your own good.)
RSVP LIST
(for attendance) pm JAY with days you plan to attend.
Bpro------------------Tues thru Monday
JayGarmon-----------Arrive late Wed. thru Sun. night
daimyo505-----------pending College Class Schedule
_________________
"Yes, evil comes in many forms, whether it be a man-eating cow or Joseph Stalin, but you can't let the package hide the pudding! Evil is just plain bad! You don't cotton to it. You gotta smack it in the nose with the rolled-up newspaper of goodness! Bad dog! Bad dog! And, isn't sanity really just a one-trick pony anyway? I mean all you get is one trick, rational thinking, but when you're good and crazy, oooh, oooh, oooh, the sky is the limit!"
My Hero.